Memorializing a Pet with a Cremation Urn
Pet cremation urns offer a comforting way to memorialize your beloved pet for generations, and they are available in so many different forms that there truly is something to suite every pet's temperament and every pet owners need. Here are some interesting facts and ideas regarding pet cremation urns. Some readers may find these surprising.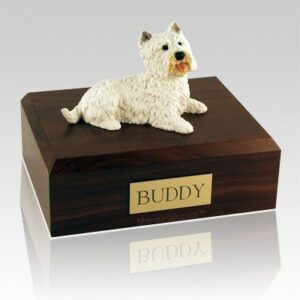 Outdoors Displays: Pet cremation urns are not just for pristine indoor displays. Many pet owners set up garden displays featuring hollow, synthetic rock urns for each of their precious pets. These rocks have a perfectly natural look but also house the remains of a beloved pet and can be personalized with a beautiful plaque of bronze or some other long-lasting metal.
Photo Display: Many pet owners have taken to displaying their favorite family pictures on pet cremation urns that serve double duty as picture frames. While some of these photo pet urns simply showcase a frame on the urn box, some look like a normal picture frame with the cremation compartment discreetly worked into the design. At least one company in recent years has taken this trend a step further even by offering a very affordably priced urn with a digital display screen that can play hundreds of image and audio files. This popular piece is sure to become a mainstay in living spaces across the world.
Discreet Urns: Many pet owners feel uncomfortable sharing their grief over the loss of a pet, and many makers of pet cremation urns have kept this in mind in their designs. A good number of pet cremation urns available today are very discreet about the fact that they hold a pets remains. Guests who may these urns would likely assume they are simply curios or some other keepsake item. While no one should feel ashamed of their grief for a lost pet, many pet owners are most comfortable grieving in private, and these discreet urns enable that quite nicely.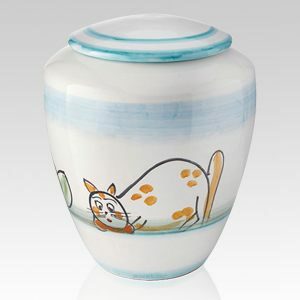 Life-size Urns: Artists who design pet cremation urns are becoming more and more sophisticated each year, and recently they have begun making pet cremation urns in the shape of a life-sized animal. Some pet owners have, believe it or not, placed one of these urns next to a bowl of food or water that gets refreshed regularly. These life-size pet cremation urns are molded into incredibly realistic looking replicas of many different breeds of cats and dogs.
Personalize pet cremation urns with collars and other items: Pet owners today routinely add special items to the pet cremation urns as an additional reminder of their pet. A cat's favorite toy , a dog's special leash, or just a collar are all great memorabilia to display upon or alongside a pet cremation urn. And many people do just that.
Keepsakes and specialty urns: Describing a typical pet cremation urn can be difficult. They are available in a huge variety of styles. Teddy bears, for example, are commonly made with Velcro openings into which a cylinder shaped urn can be stored. Urns and other artistic pieces featuring a pet's paw print are available today. These small keepsake urns are ideal for those who have scattered the remains of their pet, and wish to keep a very small portion.
Pet Keepsake Jewelry: Pet cremation jewelry is a relatively new concept in the memorial industry. These special pieces of jewelry have small compartments that will hold a nominal portion of cremation ash, or other mementos such as clippings from a lock of hair or earth from a special place. There is a huge variety of pendants and bracelets designed to store a small portion of a pet's ashes. This form of pet memorial tribute are ideal for those who want a discrete remembrance that can be kept close at all times.
These are just a few options on how to memorialize a pet, and honor the memories they left behind.