Cremation Ash Jewelry Pendants Help & Guidance
While it is the latest in a line of memorial traditions that societies have followed for ages, cremation jewelry is a new take on memorial or mourning jewelry, popular since the 16th century. In those early years, individuals would wear jewelry personalized with a person's information or, as was popular during the Victorian Era, made using a locket of hair from the deceased. Today's take on this age old practice however, is a relatively new concept that has been around for only a couple of decades. Cremation jewelry is, simply put, jewelry that contains some of the cremated ashes of a deceased loved one. For many, the idea of memorializing a beloved person in such a fashion make take some getting used to, but for a growing number of people across America and the world, the concept is a great comfort. Cremation jewelry has many names and comes in a variety of forms, but no matter the words used, cremation jewelry is among the newest and most popular ways to memorialize loved ones. This article is a brief overview of some of the most important topics related to this important, modern memorial tradition that is proving to be such a valuable source of comfort for those coping with the grief of losing a loved one.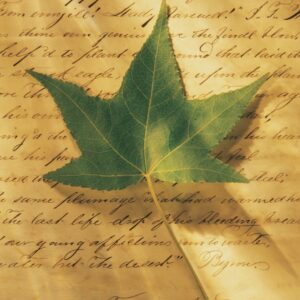 A Historical Perspective of Cremation Jewelry
For centuries, there has been a desire to remember, to memorialize, loved ones and members of one's tribe, village, region or country, and cremation jewelry is an easy and a personal way for modern families to do that. Cremation jewelry is, like the remaining treasures of antiquity, meant to memorialize loved ones for eternity. Cremation jewelry is a modern take on cremation, an old practice, dating back to the days of the Vikings, the ancient Hindi societies and others who cremated (and still do cremate) their honored dead. Cremation jewelry and other cremation keepsakes mirror a change in society. Cremation is no longer reserved just for the famous and powerful in a society, and cremation jewelry has played a role in that transformation. With the rise in popularity of cremation, cremation jewelry has become an important aspect of the memorial industry. Traditionally, cremation memorials were simple vase-like pieces of pottery in which a cremated person's ashes were stored and displayed for generations. Such traditional cremation memorials are still common, but cremation jewelry is an important new compliment to these memorials. Today's modern families will often store most of the loved one's ashes in a more traditional memorial, such as an urn, but then use cremation jewelry to share the remainder of the ashes among far flung relatives. Cremation jewelry, filled with tiny portions of a loved-one's ashes, assures that family memories will always be nearby for those wanting to preserve them.
Types of Cremation Jewelry
Today's cremation jewelry is available in many styles and materials, and may serve many purposes. It is as unique as the people it memorializes. Cremation jewelry comes in the form of attractive, pendants, bracelets and other items that have a small container in which a portion of the cremated ashes can be kept. This is a unique keepsake for those who would like to keep part of their loved ones close in a physical way.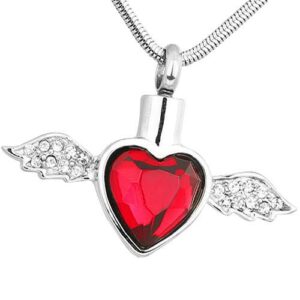 Perhaps the most popular types of cremation jewelry have much in common with traditional pieces of fine jewelry – with the notable exception; of course, that cremation jewelry is designed with hollow crevices in which up to two teaspoons of cremation remains can be stored. (In most cases, by the way, family members have no trouble filling the jewelry themselves with the aid of special funnels that are typically provided with any cremation jewelry order. That said, it is also fairly common for family members to feel a bit of uneasiness over the prospect of filling a piece of jewelry and, in such cases, many funeral directors or other memorial industry professionals are happy to assist – usually for little or no charge.) These pieces usually less than a quarter of an inch thick and no more than one inch long and, no matter what metal they are made from – sterling silver, gold vermeil or 24 karat gold are the most common choices – they usually weigh less than an ounce and fit nicely around any type of jewelry chain. It should be noted that pieces that are longer than one half an inch tend to appear much larger than those that are half an inch or less. When ordering cremation jewelry online, many
consumers order one of the larger pieces only to decide, upon receipt, that it is too large for their tastes. (Most reputable retailers will be happy to exchange the pieces for a smaller one in such cases, but they may ask the customer to pay additional shipping charges or possibly a small restocking fee.)
Other types of cremation jewelry can be found made from glass. An especially popular line of cremation jewelry features a beautifully crafted pewter piece screwed atop a handsome looking cobalt blue bottle that is about one inch long. These gorgeous and sturdy vial cremation pendants have quite a fashionable, new-age look when work with a thin black rope hung around one's neck. These pieces, selling for less than $30 in many cases, make for economical memorial gifts that many families share. It is not uncommon for a person with whom a family member's cremation ashes have been entrusted to decide on special anniversaries to distribute small portions of the remains to family members scattered across many miles via these unique cobalt blue pieces.
Other magnificently crafted pieces of cremation jewelry are made by amazingly talented glass blowers whose miniature creations are a stylistic treat in and of themselves. A large, ever changing, selection of these works of glass art is usually available at prices starting less than $100. Family members will usually have no trouble finding a glass piece that colorfully and creatively matches the spirit and loving personality of the person they want to remember for the ages. And, finally, another popular line of cremation jewelry is crafted from wood. These pieces are usually less than a quarter in thick and about one inch long and feature rustic-but-intriguingly-modern designs carved from the finest hard wood that nature has to offer. As with the glass pieces mentioned above, these unique pieces can evoke the loving spirit of any loved one, and the assortment that is available is enough to assure than anyone can be memorialized in style with one of these surprisingly inexpensive pieces.
Uses for Cremation Jewelry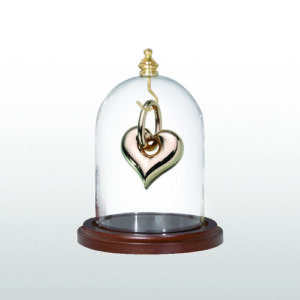 Most cremation jewelry is designed to be worn, but the pieces make for very beautiful home display features as well. Many families purchase optional dome display cases made of glass or very sturdy plastic and designed to feature the piece in a very elegant way while simply resting on a shelf in any home. These domes can be sealed permanently in the event the family does not intend to wear the cremation jewelry piece itself, but many cremation jewelry owners choose to leave the dome unsealed so that they always have the option of removing the jewelry to wear on special occasions such as family gatherings and special anniversaries. These domes are often adorned with beautifully crafted bronze plaques that include the name and dates of the deceased as well as, if space permits, a few words of remembrance.
For those who intend to wear their cremation jewelry, the pieces are almost always designed with discretion in mind. The makers of cremation jewelry realize that the decision the use this special jewelry is deeply personal and that it is not without its tinge of discomfort, so in the vast majority of cases, cremation jewelry is designed so that, if need be, only the wearer will know its contents. A few of the pieces, particularly the wooden cremation jewelry and the cobalt blue glass pieces discussed above, do display the remains by the very nature of their design, but, again, the vast majority of cremation jewelry is, when it comes to the design, very discrete about the fact that it stores a loved one's remains. A good number of the smaller pieces, in fact, are designed with the idea that an owner might want to wear the piece underneath his or her clothing so that, even the though the jewelry is being worn, it is hidden from public view. People who have chosen to exercise this discreet use of cremation jewelry have reported over the years that the idea of carrying a loved one's ashes secretly next to one's heart can be a thrilling emotional experience that emphasizes the wondrously comforting spiritual nature of cremation jewelry.
Compliments to Cremation Jewelry
Anyone who is attracted to the idea of cremation jewelry may also be intrigued by a number of other relatively new memorial traditions that relate to cremation ashes. No longer are remains forced to be relegated to a traditional Grecian urn and displayed on a family mantle in a farm house that has been passed down for generations. (Though, of course, that tradition is still carried out with regularity and is still very much acceptable as a memorial option.) No, today, there are a myriad of other options available as well, all of which, like cremation jewelry use just a portion of a loved one's remains, leaving the rest to be displayed or disposed of (as in, say, a traditional scattering or burial at sea) in a wide variety of methods.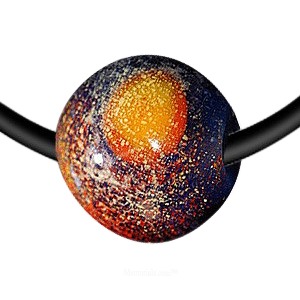 Chief among these compliments to cremation jewelry may be the many varieties of artistic works available in which a crafts person incorporates a tiny amount of ashes directly into a handmade piece. A number of glass blowers have begun offering this special service in recent years, for example. For a surprisingly affordable rate, these artists will hand blow a beautifully ornate piece, and, in the process, mix in a half teaspoon or so of ashes that a family member has mailed. These pieces can be designed, just like cremation jewelry itself, so that the ashes are visible as part of the work or the ashes can be so thoroughly incorporated into the blown art that the casual observer will never know they are there.
Still another other type of memorial products that is similarly complimentary to cremation jewelry is a new concept known as Art in Ashes. With this service, a professional artist will create an abstract painting and then, as a final, intensely personal touch, mix a tiny amount of cremation ashes into the work before shipping it to a customer. Abstract art is usually the best choice for a work of this nature, because it reflects that spiritually of the person the painting memorializes. A serious, studious personality, of course, would probably best be memorialized with a painting that features plenty of dark, somber colors and solidly bold lines. A playful spirit, on the other hand might best be remembered in a painting that is bright and haphazardly unpredictable.
And still another tradition that is complimentary to cremation jewelry is the keepsake cremation urn. These little pieces are, in effect, miniature models of traditional cremation urns. They are intended to hold a small portion of cremation remains, and many families buy several of them so that a loved one's ashes can be divided among many different people in a family that lives in far flung places. All of these complimentary new memorial services give mourners who are coping with the emotionally difficult challenge of losing a loved one many comforting options. It is not uncommon for families to combine their use of cremation jewelry with a keepsake urn, for example, or with a hand blown glass piece. Even more, it is also common for families to decide upon more than one style of cremation jewelry for their memorial needs. In short, cremation jewelry along with its many related complimentary new traditions for memorializing the special people in our lives, gives modern man an almost unlimited array of options to choose from when deciding how to make sure our loved one's legacy is preserved with dignity for the ages.