A Deeply Personal Question
The question of whether to display a cremation urn at your home is, of course, a deeply personal one. And the answer is also quite personal: go with your heart. Below are some tips that should prove useful, no matter where your heart leads you on this.
Options for display outside the home: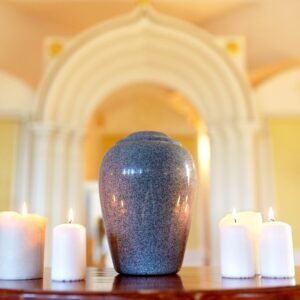 Many people are uncomfortable with the idea of displaying a cremation urn in their home. This is quite a reasonable reaction, and today's memorial industry offers a number of outside-the-home display options. Columbariums are, perhaps, the most common outside-the-home urn display. The special memorial buildings are built with a number (dozens to thousands) of "niches" that can permanently house urns. Generally, the urns are permanently sealed inside the niche's concrete or stone walls, the outside of which can be engraved and decorated much the way a traditional headstone would be. In a few cases, however, the niche's outer wall is made of glass so that the urn itself is visible. It should be noted that columbariums are typically not climate controlled, and they are designed to keep maintenance at a minimum. Urns that are built to withstand the elements are best for columbarium niches.
Another popular outside-the-home display option is a traditional grave. Most cemeteries will allow customers to bury cremation urns in standard-sized grave plots, and these, of course, can be adorned with traditional headstones, statues, and vases. Many families choose, for a variety of reasons from economic to spiritual, to bury multiple urns in one standard size plot. There is also the option of a cremation grave marker, which features compartments below the bronze plaque, which will forever hold one or two sets of cremation ashes. Alternitavely, cremation monuments are upright memorial headstones that have an area cored out, which will hold one or many sets of cremation ashes.
Options for display inside the home: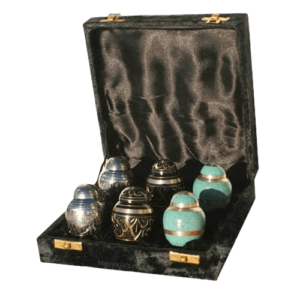 Urns can often be the most precious piece of art in any home. Today's memorial industry offers a huge variety of urns that will fit almost any décor and any loved-one's personality. Traditional looking urns – with their classic shapes and colors – make for elegant, precious family room displays. Hobby urns – such as those invoking motorcycling or fishing or even baseball – are amoung the most popular to be displayed in the home as they are especially fitting for that special room where your loved one spent so many happy hours. Many people, today, have taken to displaying their own urn for years before their death. Motorcycle enthusiasts, for example, commonly buy their own "motorcycle gas tank urn," and display it proudly on a shelf near their home's pool table with instructions to family members to keep their ashes stored permanently there. And one customer of Memorials.com wrote the company that her beautiful urn sits atop her piano where she and her homes visitors frequently admire it "while I am still here."
For those individuals who spent countless hours outdoors, there are many options that will pay perfect tribute to their love of nature. One of the most unique ways to honor a loved one is the use of a cremation memorial rock. These special boulder-style rocks are made of a very durable GFRC cast stone, and are adorned with a bronze plaque to accommodate the person's information, as well as a short verse. What makes these rocks special is that they have a hidden compartment that is accessed from the underside, which will hold the individual's cremation ashes. These memorial rocks are ideal for placement in a special garden, or even in public areas such as a park.
Options for divided households:
The idea of in-home display of an urn is more morbid and uncomfortable for some than it is for others. So many households end up divided on the question of whether to display an urn in a home. Fortunately, there are many options available to help forge a compromise. Small "keepsake" urns and pendants can hold a tiny portion of a loved-one's ashes and be displayed inconspicuously in a home – say on a bedroom dresser or a closet shelf. Likewise many "memorial cremation rocks" include storage space for ashes and can be beautifully displayed outside a home in, say, a special memorial backyard rock garden. And, finally, many urns today are beautifully sculpted works of art that do not look like "urns" at all. These gorgeous pieces can be displayed prominently with most visitors not realizing that they do, in fact, contain a loved-one's ashes.